by Tina ~ May 27th, 2015.
Is your bathroom or dresser top overrun with cosmetics and toiletries? How much time do you waste every day trying to track down just the right eye pencil or lipstick?
Today I'm going to help you regain control over your personal products with my three-step process.
Step 1: Eliminate what you don't need
It is often said that we use 20% of our things 80% of the time. This certainly applies to cosmetics.
How often have you bought make-up, only to get home and realize it wasn't the right shade for you? And what about all those free samples and gifts you've received with purchases? Not to mention small bottles of lotions and shampoos brought home from hotel stays!
So let's start by gathering everything up and seeing exactly what you have. You should be able to group them into the following categories:
1 – Toss:
Anything past the expiry date on its label
Nail polish that has separated or dried out
Anything that smells "off"
Many labels don't have expiry dates, so for guidelines on how long cosmetics should be kept, check out Good Housekeeping's Have Your Beauty Products Gone Bad?
Please note that nail polish, nail polish remover, aftershave, perfume, and other alcohol-based lotions are considered hazardous household waste. In Toronto, these items should be taken to your nearest Drop-off Depot or a Community Environment Day for safe disposal.
2 – Donate:
Unopened packages that you will never use
Anything you've purchased in bulk that exceeds your anticipated usage
If you're feeling really ruthless, consider unloading these five beauty products you don't need.
The following are some of the organizations in Toronto that accept donations of unused cosmetics and/or toiletries:
Thanks to Olivia Ha Makeup & Hair for compiling this list! Visit Olivia's blog for additional details.
For health reasons, most places will not accept open packages, but the Centre for Addiction and Mental Health (CAMH) takes opened and half-used toiletries. Otherwise, you may be able to pass them on to a friend or family member. If you do, keep in mind that eye makeup should never be shared due to the risk of contamination.
3 – Keep:
See how much shorter this list is than the previous two? Once you've pared down your collection, it's going to be so much easier to organize what you have left!
Jen at IHeart Organizing has an idea to free up even more space: she combined like products into one container and recycled the newly emptied bottles – brilliant!
Step 2: Organize what you are keeping
Once you've identified the items you use regularly, group them together based on how and when they are used. Typical groupings are:
Day-to-day toiletries used in the bathtub of shower, e.g. shower, conditioner, body wash
Toothpaste, toothbrushes, floss and related items
Facial care products, e.g. cleanser, moisturizer, masks
Everyday makeup
Special occasion makeup
Keeping similar items together will cut down on the time it takes you to get ready to go out, but it will also be easier to keep track of what you have, so you won't run out of supplies or buy them before they're actually needed.
Step 3: Contain and store
As shown in these photos, you can keep your daily necessities close at hand without having them scattered all over the bathroom!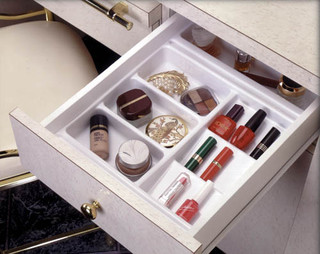 Lazy Susans
Hanging organizers
Sliding or stacking baskets or drawer units under the sink
But you don't have to stick with conventional methods! Why not try one of these really creative ideas?
Affix a sheet of galvanized steel to the back of your medicine chest to hold magnetic hooks and small plastic cups with magnetic bottoms to corral small items (Source: Martha Stewart)
Use a spice rack to hold perfumes, lotions, face wash and other items (Source: IHeart Organizing)
Do you have a creative idea of your own? We want to hear about it, so please leave a comment!
photo credit: via photopin (license)
clutter
,
home organization
.
Tags:
bathroom organization
,
organizing cosmetics
.